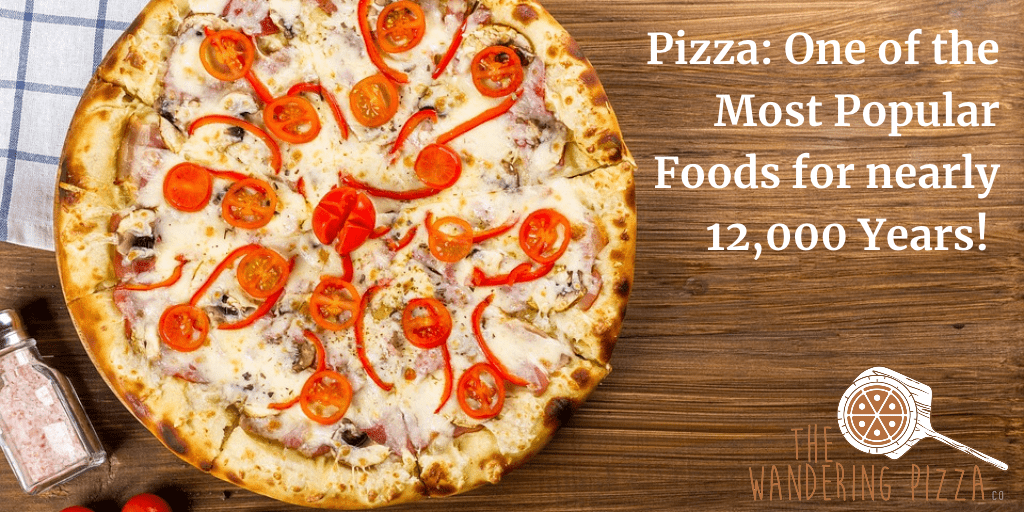 You rarely find a town or high street without pizza. It's one of Europe's most popular dishes and is most commonly recognised as a fast food served late in the evening. But did you know that pizza was originally created by people in the Neolithic age to make bread taste more interesting?!
Bread is, by itself, fairly simple – and thousands of years ago it was part of the staple diet and thus a simple filler. To eat it over and over again dry and on its own must have been tough, so food was added to the top to jazz it up and – bam – pizza was born.
That said, it wasn't until the Italians gave it a name for itself that it became pizza and grew its global fame and popularity.
Where did Pizza come from?
The first recorded mention of pizza is found way back in the 10th century in the south of Italy in the town of Gaeta, Lazio, but it was given its modern style and present day brand in Naples.
Now of course the modern day pizza is often far removed from the original pizza creation. With everything from pineapple to mac and cheese being added to the versatile meal you can see why and how it became such a giant in the cuisine world how it's stood the test of time. You can even get thin crispy pizza bases with just cream and strawberries for a dessert – yum.
What's the most popular pizza?
The main ingredients of a pizza are fairly simple and remain with their roots:
Bread – for the base and the original ingredient that inspired the meal.
Tomato sauce – swirled onto the bread base and readily available in Italy as it was (and still is) one of their key exports.
Cheese – again, readily available at the time and easy to find wherever you are in the world.
And now, what's the most popular topping? Well you may be surprised to learn that it's the humble mushroom. According to a poll by the pizza giant, Papa Johns, mushrooms top the charts closely followed by onions and ham and then pepperoni.
Here's the full list:
•      Mushrooms
•      Onions
•      Ham
•      Pepperoni
•      Pineapple
•      Sweetcorn
•      Tomato
•      Jalapenos
•      Spinach
•      Fish
Would you agree? Pineapple is the marmite of the pizza world at time and this hilarious tweet during a white out in the UK due to snow did amuse us at the time.
Which Pizzas do Wandering Pizza Create?
All of our pizzas are created with a sour dough base which is the tastiest in our humble opinion, and measure 9/10". We find these work well as a meal at an event such as a party or wedding.
Margherita – the classic pizza choice, it appeals to most hungry fans and matches the original design and creation of the humble pizza. The simple Margherita pizza consists of: tomato sauce, whole basil leaves, and sliced mozzarella.
Cornish Brie & Caramelised Onion Chutney – pizza is all about cheese for many so we added in one of the most popular cheeses and one that lends itself to being warm and melted. Brie and caramelised onion is a classic pairing and a popular choice at events.
Smoked Ham and Chestnut Mushrooms – adding in two of the top three ingredients in the most popular pizza list, this classic appeals to many and with the added smoked taste of the ham it works perfectly with the wood-fired sour dough.
Pepperoni & Roquito Pepper Pearls – Roquito pepper pearls give you a wonderful balance of taste and heat and are simply perfect on top of a pizza. Add to that the spice and glorious texture of the pepperoni and you have a spicy pizza for those who like a little more fire.
Chorizo & Marinated Olives – Olives hark back to the origin of pizza as the Italians do love an olive. Green or black olives add some tangy Mediterranean flavour to the pizza. Chorizo also brings into play the taste buds and some lovely texture too.
Pizza – the most popular choice for you event?
With so many options for food at your event it's no surprise that you might be inundated with choices right now. We're biased, but we have the data too, that pizza might well be your best choice when catering for the hungry masses.
Pizza is quick, appeals to the majority, and is easily personalised on site and in front of your guests. With the added bonus of a wood fired oven to wow your audience you'll not go far wrong with a Wandering Pizza van at your event.
Let us bring a modern twist to a 12,000 year-old tradition. We'll light a fire under your event.